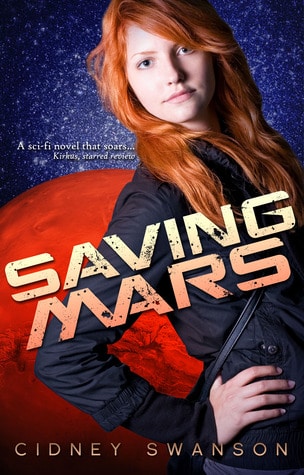 EXCERPT #1 In this excerpt, Jessamyn Jaarda, who lives on Mars where there is only one dog, meets the Planetary Dog for the first time.
But something happened when Jess's eyes connected with Rover's. His eyes, light-blue like Ethan's, caught her at once with their intelligence. Who are you? the dog seemed to be asking. He tilted his head from side to side, never loosing her from his gaze except to blink.
"The blinking is one of the ways he's acknowledging you as being ahead of him in the pack," said the Secretary. "Huh," said Jessamyn. She wasn't really paying attention, though. She felt a rush as something swept through her. A something that reminded her of taking her craft toward breaking day or of watching Phobos as the swift moon zipped across the night sky. The dog was . . . wondrous. A shiver ran along her spine. "Hi," she said to the gentle-eyed creature before her.
About the author:
Cidney Swanson is a full-time writer of Young Adult Sci-Fi and Fantasy including The Rippler Trilogy and The Saving Mars Series. SAVING MARS was named to Kirkus Reviews' Best of 2012. Cidney is fond of saying that for her, "Every Day is NaNoWriMo!" When not writing, she's easily distracted by shiny things such as books with raised foil on the covers, cleverly packaged bars of chocolate, or stars set against an inky night sky. She lives in rainy Eugene, Oregon with her family.
Facebook: https://www.facebook.com/cidneyswanson
Twitter: https://twitter.com/cidneyswanson
Facebook: http://www.goodreads.com/author/show/4904826.Cidney_Swanson
Goodreads: http://cidneyswanson.com
Book Summary:
When starvation threatens the human colony on Mars, 17-year-old Jessamyn, a pilot whose been grounded, must prove that she and her autistic brother have the right stuff to raid Earth for food.
Barnes & Noble: http://www.barnesandnoble.com/w/saving-mars-cidney-swanson/1113784314?ean=9780983562160
Goodreads: http://www.goodreads.com/book/show/15797097-saving-mars
Amazon: http://www.amazon.com/Saving-Mars-Series-1-ebook/dp/B008SULWZ6/
Author Cidney Swanson has graciously offered to give away a copy!