*Note: I am addressing an important issue in the publishing world, with young adult books in particular. I'm using one of my books as an example to get people thinking. I'm not saying that this issue is the only issue involved with my book. I'm using it as an example to bring awareness. See the links/resources at the end of this post for more information and factual statistics.*
Update: In this post, I said that I wasn't going to change the cover because of the issue discussed in this post. I have since changed my cover, but it has nothing to do with the issue. Since the writing of this post, I've spent a great deal of time studying covers. What I learned in regards to other issues caused my decision to start with a new cover. For instance, I had no idea that the font used on the title is a "kiss of death" for covers.
Now onto the original post, addressing an issue I feel strongly about:
Authors get all kinds of advice on book marketing: put links at the end of your book, create a website, build your brand, go free, don't go free, and the list goes on. There is one thing no one talks about which can kill your sales in a way that nothing else will. It has nothing to do with editing, having a well designed covered, or even great reviews.
Accidental Discovery
I discovered it by accident recently. I released my latest novel, Chasing Mercy, with no idea that I had broken the unspoken rule. I was excited, sure that it would do as well the books from my Transformed series. The early readers had all loved it and within about the first week, it already had ten glowing reviews. Then….
Crickets. Almost no sales. I tried a lot of the same promotion that had helped my other books, but with minimal results. Then I decided on a KDP Select run and gave it away. Deception had gotten picked up by quite a few of the sites that promote free books and I was surprised that Chasing Mercy hadn't been picked up. The review score was higher, the only thing that made any sense to me was that it was a new release. That had to be why it didn't get picked up by most of the sites. Right?
The Real Problem
Would you like to take a guess at what the real problem was? Take a peek at the cover and blurb and see if you can guess: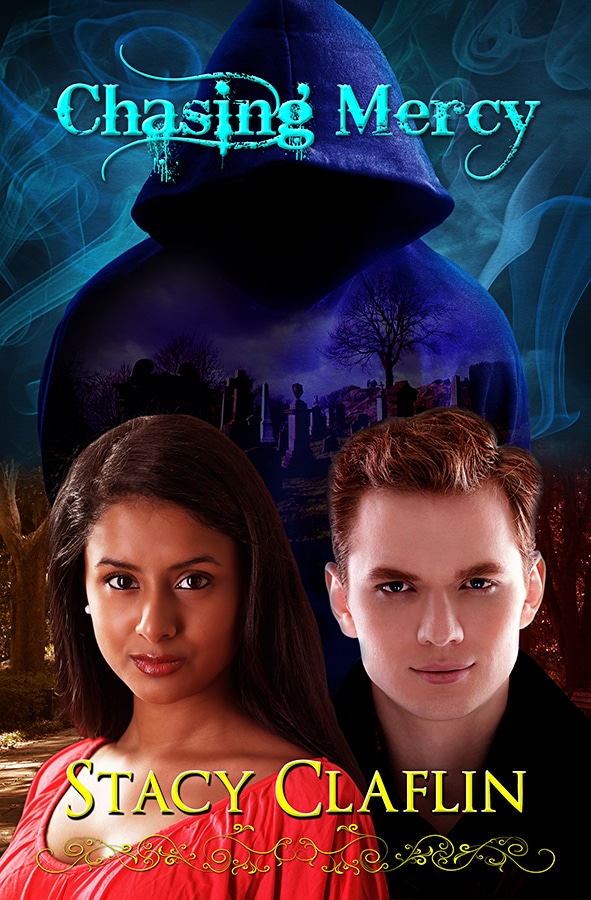 The summer after graduation should have been the most exciting time of Mercy's life.
Instead, on the way to an exciting overseas trip, she barely survives an accident that kills the rest of her family. As soon as she's released from the hospital, a creepy hooded figure with black skinny jeans begins to chase her. 
At home, Mercy experiences other ghostly encounters. Kit, her neighbor who happens to run a paranormal blog, thinks that her brush with death has made her more sensitive to life on the other side. She discovers what the hooded figure is hiding and decides to try and stop him regardless of the danger.
Can You Guess?
Does the answer scream out at you? Can you figure out the huge "mistake" I made? Is it that people don't want to read about ghosts and reapers? Maybe it just sounds too sad, the poor girl has to live without her family.
Really?
I'll let you know the reason, and you'll have to leave a comment and let me know if it disgusts you as much as it does me. I hate even saying this, but the reason it's not selling is because the main character's race. She isn't white. Seriously.
The topic of race came up on an author group that I'm part of and after reading the experiences of other authors, I realized that race was the cause of my low sales. Prior to that I had all kinds of other ideas, such as needing to get the sequel out to boost sales. But the thought of race never once crossed my mind.
Now understand that I don't expect everyone to jump out and buy my book. I also don't think that people are prejudiced if they pass up my book. There are many factors that go into the decision to purchase a book or not. But the fact is  the sales of this book versus my previous two are like night and day. There is something causing the difference.
Here's another thing to consider: Other authors report that changing their covers has caused their sales to skyrocket! 
The fact is in order for YA novels to sell with an ethnic person on the cover, it needs to be whitewashed, turned into a silhouette, or removed completely. This is why traditional publishing companies stay away from covers with diversity. See the links that I provide at the end of this post for examples and hard numbers.
Something Needs to Change
Does that bother anyone else? It should, because my friends, this is not right! I'm not upset about my sales, it's the overall problem that has me so upset.  It's not right that this is happening.
It needs to start with Indie authors who can choose the covers that the big publishing houses won't touch. Next it comes to the readers, which includes authors because we're readers too. We need to buy and leave reviews for books with diverse main characters on the cover.
If anything is going to change we all need to take steps to get the ball of change rolling. I'm not judging anyone's choices, but I'm not going to change my cover even though it will cost me sales. She is beautiful and represents my main character well. End of story.
What will you do? You can start by checking out the posts below and then going out to support a book with a diverse cover. You can start by picking this one up for free: Surfer Girl and you can grab my book, Chasing Mercy.
If you've written a book with a diverse main character, share about it in the comments!
Check out these posts on the topic:
Color Distribution of YA Covers 2011
Diversity in 2012 YA Bestsellers
It Matters If You're Black or White: The Racism of YA Book Covers
The Hunger Games hit by racism row as movie fans tweet vile slurs over casting of black teen actress as heroine Rue
Resources for Diverse Lit and Media – great resource for authors and also readers looking for books to support