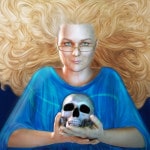 What's your story? How did you get into writing?
When I was six, I told the teacher that the stories in the school book were stupid and I could write better ones. She challenged me to write a story about a letter's adventures from writing to delivery. When I handed it in, she was startled that a six year-old could write so well. Of course, she didn't know I'd had the help of my older sister. From then on, when the other kids had to read the dull pieces for their homework, she often assigned me to write stories, and I soon learnt to do it without my sister's help.
What advice do you have for aspiring authors?
Learn the writing craft and master it to the highest standard you're capable of, so your books are as good as you can possibly make them. Use instruction books, classes, workshops, critique groups, beta readers, mentors, whatever suits you. Make your books stand out because of their quality.
What are you working on now?
As always, I'm working on several projects at once: a Fantasy horror story about a werewolf in ancient Greece, a dark story about a governess and smugglers in Regency England, a Victorian ghost story, and sequel to my dark epic fantasy novel Storm Dancer. I'm also writing another non-fiction book for my bestselling Writing Craft series. This book is 'Writing Dark Stories' and it's for authors who want to learn how to write short, disturbing fiction.
I'm the editor of the Ten Tales books. These are themed fantasy and horror anthologies, each with ten stories by ten authors. The one I'm working on right now is 'Seer: Ten Tales of Clairvoyance'. I've selected the stories, and this morning I've written the introduction.
What has been the most challenging part of publishing or marketing your book?
The question is how to warn the readers about the dark elements in Storm Dancer. It's a dark epic fantasy novel, and some aspects are very dark indeed: there's war, rape, treachery, killing of animals, human sacrifice, torture and demonic possession. The violence is not particularly graphic – anyone who's read Game of Thrones will take Storm Dancer in their stride – but the build-up is so intense that readers create vivid images in their own mind, and picture the scenes graphically.
That's why I included a warning in the book description: 'Caution: this book contains some violence and disturbing situations.' I hoped that this would help protect particularly sensitive readers.
However, a few readers say the warning should be much stronger. They found the book so disturbing that they couldn't bring themselves to read on.
Yet others wonder what the warning is about. They expected lots of shocking, violent, explicit stuff and were disappointed by the lack of sex and gore.
I suggest downloading the free sample pages, using the 'look inside' feature, or reading the first six chapters free here https://sites.google.com/site/stormdancernovel/storm-dancer-free-sample-pages to see if Storm Dancer is your kind of book.
What has been your favorite part?
Dahoud, the troubled hero with a dark secret.
He needs to atone for the atrocities he committed as a siege commander. He works to build a new life, but his dark past won't let him go.
Ruling the land he once devastated, how can he keep the secret of who he really is? He is possessed by a demon that tempts him back into his old ways. How long can Dahoud resist the lure? He fights to shield his people from war's violence – but the worst danger comes from himself. How can he protect the woman he loves from the evil inside him?
Merida, the scholarlly magician who can change the weather with her dance.
Who are your favorite authors?
Always the one I'm reading at the moment! Dave Duncan. Tanith Lee. Gene Wolfe. Amelia Ewards. Edgar Allen Poe. And a thousand others. I'm a rapid reader and devour several hundred books every year.
What gave you the idea for your current work?
The dark Regency story about the governess was inspired by a visit to a historical jailhouse last summer, not far from where I live. In the early 19th century, smuggling was big business here in Sussex, and I imagined what it would be like for an innocent to be caught up in the crime.
If you could be any character in the book, which one would you be?
In Storm Dancer? Definitely Merida, the scholar-magician who can change the weather with her dance. She is most like me – introvert, intellectual and stubborn. Some of her adventures are based on my own experiences, for example, performing bellydance, working in a foreign country with a culture different from my own, and being held captive by a crazed employer. I wish I could dance to change the weather like Merida can! I would dearly love to replace some the continual English greyness and drizzle with sunshine and heat.
What other books have you written and/or are working on for the future?
I've had over forty books published in different genres, under different pen names, with twelve publishers in six countries, translated into several languages. Recently, I have switched to independent publishing, and I'm trying to get back the rights to some of my out-of-print books so I can publish them as ebooks.
I'm also publishing my short stories – previously published in magazines, ezines and anthologies – in ebook collections. The most successful series is 'Six Scary Tales' with six creepy, atmospheric horror stories in each volume. Volumes 1, 2, 3 and 4 are published, and Volume 5 will come soon. There's also Six Historical Tales (Volume 1 published, Volume 2 coming soon) and Six Quirky Tales.
My bestselling books are the Writing Craft titles. These are ebooks for writers who want to progress beyond the basics and learn specialist skills. Titles include Writing Fight Scenes, Writing Scary Scenes, The Word-Loss Diet, Writing About Villains and Writing About Magic.
The Ten Tales series of which I'm the editor and publisher comprises so far Haunted: Ten Tales of Ghosts, Bites: Ten Tales of Vampires, Cutlass: Ten Tales of Pirates, Scared: Ten Tales of Horror, Beltane: Ten Tales of Witchcraft, Spells: Ten Tales of Magic, Undead: Ten Tales of Zombies.
What's your favorite quote?
"You don't need more time, you just need to decide." Seth Godin
What's your favorite supernatural creature?
Always the one I'm writing about: demons, vampires, ghosts, and right now, werewolves.
Links to Storm Dancer: