Author Interview
What advice do you have for aspiring authors?
Never stop writing. Do it everyday, whenever you can, until your eyeballs fall out.
What are you working on now?
I'm working on several projects. I still have to publish the next two novels in the Oracle of Delphi series, plus two novellas. Then there's the New Adult Romance series I'm working on called Love & Steampunk. After that, I have another fantasy series I'm going to publish. But that's a few years away.
What has been the most challenging part of publishing or marketing your book?
Getting reviews has definitely been difficult for me, since each book in the Oracle of Delphi series is 120,000+ words. I know, I know. They're massive! But they're fantasy books, so there's always so much going on. The thing is, book bloggers get so many requests I'm sure most of them go for the shorter books first, which I totally understand. So I'm not bitter 🙂
What has been your favorite part?
Getting to fall in love with books all over again. I've never been more addicted to books than I am now and it's a great feeling. Becoming an author and publishing for the first time opened me up to an entirely new world I didn't know existed. I'm having a blast and I hope it never ends!
Who are your favorite authors?
UGH. This question again. It's impossible to answer! I'm definitely a new fan of C.M. Stunich and Katy Evans. Colleen Hoover and Karen Marie Moning are both amazing, but if I absolutely had to choose, I'd say J.R. Ward. Her Black Dagger Brotherhood series cannot be denied.
What gave you the idea for your current work?
My love for Greek mythology. Before I even knew that I wanted to write a series based around it, I loved it. So when I finally decided that I was ready to write my first novel, I didn't really have to think about it. I mean, all of the myths are just so enthralling! I love the different stories, and characters and multiple interpretations.
If you could be any character in the book, which one would you be?
I'd definitely want to be Chloe. And there's two reasons for that: 1) She can see the future 2) Strafford Law.
What's your favorite supernatural creature?
DRAGONS. I adore dragons. They can fly AND breathe fire. They're pretty hideous looking most of the time, but nobody messes with dragons. Brave knights be damned *lol*
About the Oracle of Delphi
She has a destiny so great that even the gods fear her.
Constant hallucinations and the frequent conversations with the voices in her head, have earned eighteen-year-old Chloe Clever the not-so-coveted title of "Whack Job" in her home town of Adel, Georgia. With the onslaught of prescription medications and therapists threatening to push her over the edge, she wishes for a life far away from the one she has, a life where she is destined to be more than the butt of everyone's jokes and mockery.
Be careful what you wish for has never rung more true.
After living through an attack from her worst nightmare, she awakens to find herself far from home, surrounded by glorious riches and servants…and a few demigods who enjoy killing things. Upon learning that her favorite rockstar is an Olympian god, she is thrust into her new life as the Oracle of Delphi, the prophesier of the future, and the great Pythia that the gods have been anxiously awaiting to arrive for centuries. Setting out to fulfill the prophecy she has been given and to keep her family safe from a demigod Princess that wants her dead, Chloe learns of how great she is to become, all the while fighting mythical monsters, evading divine assassins and trying to outwit the ever-cunning Greek gods who harbor secrets of their own. In the hopes of discovering the Most Beautiful and the truth of her destiny, she strives to uncover the mysteries of the demigod Prince who has sworn to protect her with his life…and threatens to win her heart in the process.
Giveaways
a Rafflecopter giveaway
a Rafflecopter giveaway
About the Author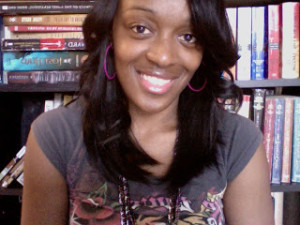 Diantha Jones was born the day thousands of turkeys sacrificed their lives to fill millions of American bellies on November 22 which also happened to be Thanksgiving Day (Her mother says she owes her a turkey). She is a Journalism graduate who wants to be a career novelist (of books, not Facebook posts). When not writing or working, she is reading on her Nook, being hypnotized by Netflix or on a mission to procure french fries.
The Oracle of Delphi fantasy series is her first series. She is also the author of Mythos: Stories from Olympus, a companion series, and there is another fantasy series in the works. She also writes (new) adult fantasy/paranormal romance under the name A. Star. Invasion (An Alien Romance) is her first title released under this pen name. Future releases under A. Star include, the Love & Steampunk series, the Purr, Inc. stories, and more.

Email Diantha Jones at: theauthor (at) diantha-jones (dot) com