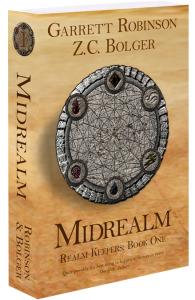 I've been listening to Garrett and ZC's Storytelling Podcast for some time now and have heard about Realm Keepers for a long time.
I thought it was about time I read one of their books so I ordered Midrealm, the first book in the Realm Keepers series because they're offering a great deal if you pre-order the signed paperback version which includes a free bonus story.
Review
So anyway…on to the review of Realm Keepers: Episode One – which is currently free.
The first line grabbed me and I was hooked. I mean, really, who wouldn't want to keep reading after that line? What a great way to start a story! The rest of the episode was just as good and I was glad to have the time to read it all in one sitting.
It was a fun and engaging story, I was drawn in from the start and it didn't let go. It was easy to feel a part of the world and I enjoyed the banter between the characters. They reminded of people that I actually knew in high school.
I loved the ending too! I don't want to spoil any alerts (if you listen to their podcast, you'll know why that's funny) but I must say that if you enjoy YA and fantasy, you're sure to love this one. I can't wait for the rest of it! Hurry up, guys!
5 stars
Go and get it! What are you waiting for? Episode one is free!