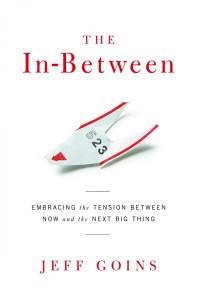 Jeff Goins has just released his newest book, In Between. He deals with those times in life when we're waiting for the next big thing to come along. There are many benefits to living in those times. We can learn lessons, grow personally, learn to appreciate the art of living in the moment, learn to embrace inconveniences and more.
We all have had many times when we've been living in between. I remember as a teenager, I had a lof of those times. I couldn't wait to drive, to get my first job, get accepted into college, to move out. I was always focused more on the next big thing than whatever 'boring' thing was in front of me.
In Between: Vampire Style
In the novel that I just released, Forgotten, Alexis, the main character, starts off the story in a major in between time of her life. She wakes up 18 months after she last remembers falling asleep in a castle full of vampires. Suddenly, she's in the home of the human family that raised her.
Alexis is desperate to get back to the castle because there's a terrible war looming and her people need her. She has no way of contacting anyone at castle, so she's forced to focus on what's in front of her. During the process of living in her in between time, she's able to learn and grow in ways that she wouldn't have otherwise.
In Between: Jeff Goins' Style
Jeff is offering six special reasons to get In Between now:
If you order a paperback copy of the book, you will be able to get access to six exclusive bonuses (worth $240):
Advanced digital copies of the manuscript in Kindle, iPad, PDF, and Nook formats (a $40 value)
Free digital copies of my last book, Wrecked, in all file formats (a $40 value)
Complimentary audiobook, read by me (a $30 value)
Membership to an exclusive online community, including a free newsletter and invitation-only Facebook group (a $99 value)
Reader's guide with exclusive content and discussion questions (a $10 value)
30-minute writing workshop (MP3 format) entitled, "How to Fall Back in Love with Writing" (a $20 value)