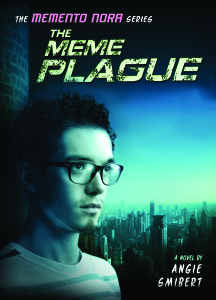 About THE MEME PLAGUE: It begins with the name JONAS W. on the side of a cardboard coffin—right before the funeral procession blows up. Then it's the whisper in the back of Micah's head: Your father betrayed his country. You can't always trust your own brain. Not when you have one of the mayor's mandatory chips in your skull. Micah knows that the chip developed by TFC (the corporation that runs the Therapeutic Forgetting Clinics) does more than just erase unpleasant memories—it implants new ones. The MemeCast warns citizens to "fight the hack."
Micah and his friends have each lost something—a parent, a relationship, a home, maybe even their own identities as they remembered them to be. But together, they can make sure some things are never forgotten.
Election Day is coming, and Mayor Mignon is set to be elected to Congress. It's time to build a new electronic frontier, one that's not controlled by the mayor and his cronies. It's time to get out the vote and shake up the system. It's time to finally say enough.
Release date: 8/13/2013
Publisher:  Skyscape/Amazon
Genre: YA science fiction
ISBN: 978-1477816608
ASIN:  B00CEHQ484

If you can't scroll, click to read: THE MEME PLAGUE chapter 1 –
Buy links:
Amazon: http://www.amazon.com/Meme-Plague-Memento-Nora-ebook/dp/B00CEHQ484/ref=tmm_kin_title_0?ie=UTF8&qid=1373300194&sr=8-1
B & N:  http://www.barnesandnoble.com/w/the-meme-plague-angie-smibert/1115263660?ean=9781477816608
Publisher website:  http://www.apub.com/book-detail?asin=B00CEHQ484
Book Depository:  http://www.bookdepository.com/Meme-Plague-Angie-Smibert/9781477816608
Indiebound: http://www.indiebound.org/book/9781477816608
About Angie:
Angie Smibert was born in Blacksburg, a once sleepy college town in the mountains of Southwest Virginia. She grew up thinking she wanted to be a veterinarian; organic chemistry had other ideas. But she always had stories in her head. Eventually, after a few degrees and a few cool jobs—including a 10-year stint at NASA's Kennedy Space Center—she wrote some of those stories down.
She's published many short stories, for both adults and teens. (You can read some of them on her website.)
You can also catch her blogging as part of the LEAGUE OF EXTRAORDINARY WRITERS.
Check out her Amazon Author Central page.
Social Media Links:
Twitter:  https://twitter.com/@amsmibert
Facebook:
·      www.facebook.com/mementonora
Blog:
Book on Goodreads:  http://www.goodreads.com/book/show/14762237-the-meme-plague
Author on Goodreads:  http://www.goodreads.com/author/show/3399621.Angie_Smibert
Tumblr:  http://angiesmibert.tumblr.com/
Pinterest: http://pinterest.com/asmibert/
Group blog:  www.leaguewriters.blogspot.com
Angie is also proud to be partnering with Feeding America as part of the launch of THE MEME PLAGUE. Check it out at this page: http://help.feedingamerica.org/site/TR?pg=fund&fr_id=1140&pxfid=8980
THE MEME PLAGUE Giveaway Details:
Angie is giving away the following prizes during the blog tour:
Grand prize: (1) Kindle (courtesy of Amazon)—the basic 6" display / wifi one.
(1)Complete set of the series. (MN, FC, MP). Signed if in US; unsigned and delivered through Book Depository if outside US.
(3) Meme Plague (hard copy) plus swag.