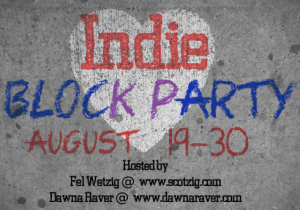 Today is the first day of the Indie Block Party! Be sure to check out the party page so that you can meet the other indie authors.
A little bit about my early writing…

I have been writing stories ever since I could write out enough to make a story. I can remember writing my first chapter story at about the age of nine – for fun. I used to keep spiral bound notebooks all over my room and I would write story after story. Those were the days before people had computers in their home, much less digital notebooks!
My earliest series was my "Jake 'N Joe" series, which I still have – on the original construction paper. Jake and Joe were two of my younger cousins. They were often getting into mischief, giving me an endless supply of story ideas. I would read the stories at family gatherings and the adults would usually roar with laughter. Often at points where I wasn't trying to be funny.
I was a senior in high school before my first story was typed on a computer. That was when my mom got her second computer and I inherited her super cool green-screen computer that weighed almost as much as my car. I don't even think that I could access that story now because it's saved on this thing called a floppy disk …although the disk itself wasn't floppy.
When I was in college, I didn't have a lot of time for writing. Each professor thought that my entire life should revolve around their class. I enjoyed writing so I made time to write small pieces at a time. I would write a chapter and then email it to a select group of people. They always enjoyed receiving the chapters and I loved the immediate feedback, which usually consisted of something along the lines of wanting the next chapter right away because they didn't want to wait.
My Current Writing…
I started independently publishing late last year with my Transformed series. The books follow Alexis Ferguson, who discovers that her life is not what she thought. Though raised by humans, she was actually born into a supernatural race which humans have a lot of misconceptions about. The further the stories go, the more she learns about her surprising role. She runs into Deception and Betrayal at nearly every turn until one day she wakes to find that she's been completely Forgotten by those she loves.
I've also written a standalone about Reapers (which will have a sequel at some point) and a short story for Kindle Worlds in the world of the Vampire Diaries.
About my blog…
I blog about a variety of things. I host tours to help promote other indie authors, I write reviews, I interview other authors and sometimes I post about writing and self publishing.
Thanks for stopping by!