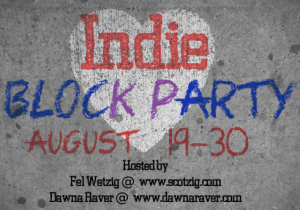 For today's Indie Block Party post, I'm going to share about my Work In Progress. I actually have about four of them right now, but I'll focus on the one that I'm getting ready to publish in 2-3 weeks.
Fallen
It's a novella called Fallen, and it's the Prequel to my Transformed series. I would love to share the cover – I love it so much! But I haven't had my cover reveal yet, so that will have to wait.
One fun fact about Fallen is that it's written from the perspective of one of the antagonists in the series. That made it challenging to start with, but now I love the character.
The unofficial blurb (most likely to be updated, so opinions are welcome!)
Samantha Erikson is a vampire with one mission: to rule the world. She's spent decades winning over the world's most feared vampire, Vince Moretti. Just when everything is going according to plan, he sidetracks her with the assignment of pretending to be a high school student in a small town.
It's humiliating enough to go from stilettos to sneakers, but Samantha must also follow the most boring person alive: the teenage girl who stands between her and the throne. When she has had all she can take, she finds a fun distraction: an attractive football player who isn't scared of vampires. There's one problem. Against her better judgment, she falls in love with him. Now she must decide between the mortal she adores and a place of power in the vampire world. If she tries to have both, she could lose everything.
 Other WIPs
As I mentioned earlier, I'm working on four stories at the moment. The other three:
Book four (and the final novel) for the Transformed series
The sequel to Fallen – another novella
Searching for Mercy – the sequel to Chasing Mercy
Visit the other authors in the block party: