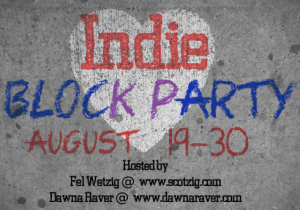 This might be the hardest block party post – picking out five favorite books! I've been an avid reader for as long as I could read. There are so many books that I love…how could I narrow it down to five??
I'm going to feature indie authors…this is the indie block party!
Click the covers for the links.
Blood & Snow
This series is fun and unique vampire tale that is fast paced and quick read. It's a modern day twist of the fairy tale Snow White. Snow's best friends are seven guys who live next door to her and her other best friend is Cindy – you guessed it, Cinderella.
The first real twist of the story is when she is bitten by a hunter, which starts her journey to becoming a vampire. This definitely isn't your typical vampire story and the twists and turns that lay ahead are both unique and fun. The characters are interesting and you're left constantly guessing what will happen next.
If you're looking for a fun read that will have you guessing the whole way through, I recommend Blood and Snow!
Runes series
 Runes and Immortals are two books that I could not put down. Raine Cooper is in a confusing time of her life, in love with her lifelong best guy friend, Eirik, while at the same time her dad is missing. Then she gets a new next door neighbor, Torin St. James. He's a bad guy who seems to be following her around, fixing her messes for her. At first she doesn't know how to respond to him. She's attracted to him, but annoyed with him, and also curious about how he fixes her problems with what he calls magic.
She struggles with her feelings between Torin and Eirik.  Meanwhile, the mystery of the magic deepens as the story progresses and there are hints here and there about other people being in on whatever secret Torin has about what he is. I don't want to go into any more detail and give anything away. But what I have to say is that the story is so good. It's one of those that I didn't want to put down and I kept thinking about it when I wasn't reading it. Then there was the ending! I have got to get my hands on the next book! In the meantime, I'll start her other series.
If you love YA Paranormal Romance – this is a must read!
Realm Keepers
 Another great indie YA paranormal story. The first line grabbed me and I was hooked. What a great way to start a story! The rest of the episode was just as good and I was glad to have the time to read it all in one sitting.
It was a fun and engaging story, I was drawn in from the start and it didn't let go. It was easy to feel a part of the world and I enjoyed the banter between the characters. They reminded of people that I actually knew in high school.
I loved the ending too! I don't want to spoil any alerts (if you listen to their podcast, you'll know why that's funny) but I must say that if you enjoy YA and fantasy, you're sure to love this one. 
The first episode is free, so you should definitely give it a try!
Where Will You Run?
 ME Franco is a fantastic storyteller, drawing the reader in from the first page and never letting go. It was one of those books that you don't want to put down until you get to the end.
The story starts with Mari, a homicide detective who just found out that her sister, Kerry, was admitted to a mental facility for going on about vampires. At first, Mari thinks that her sister might have lost it, but then after Kerry disappears mysteriously, she questions how much of her sister's story might actually be true.
As Mari goes in search of answers, she's partnered with the very handsome Raith Macrae who seems to be holding her back in her investigations. Though they drive each other crazy, there's plenty of chemistry that has you hoping they'll get together.
ForNevermore
This was another YA paranormal read that I couldn't put down. Although it get off to a bit of a slow start, it picked up and had me biting my nails all the way through! I was glad that I had all of the episodes before reading it because I would have hated to wait for each episode! Although it got off to a bit of a slow start, it was very intriguing and had me guessing what was coming next all the way through. I loved the twists and turns, there were so many things that I didn't see coming at all!
It's about a 17 year old girl, Noella, who has special abilities that seem like more of a nuisance than anything else. What she ends up discovering is more than she ever thought possible. The ending was a complete surprise and I can't wait for the next season!
Visit the other Indie Block Party stops: