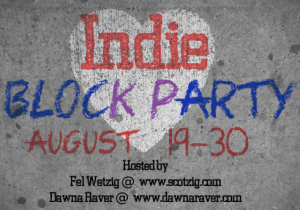 I'm way behind on this final post for the Indie Block Party!
My social media tips are pretty simple. I'm not a social media guru, but I have been using social media for a long time. I had a MySpace account before my 7 year old was born.
Tackle one at a time. Don't jump in and try to learn five new social media channels this week. You'll get burned out and overwhelmed in no time. There are so many options out there. Pick one and learn the ins and outs of that one before jumping into the next. Once you have a handle on one, you'll be able to work it into your schedule.
Educate yourself. Read up on the site that you're learning so that you can maximize your time. Learning as you can be frustrating and a huge time suck. Pick a couple social media experts to follow so that you can stay up to date on everything.
Know yourself. Know what is you waste the most time on – and avoid it or set time limits. Personally, I can get lost scrolling through news feeds on Facebook and Pinterest. I usually avoid my Pinterest feed unless I have a specific purpose. I can lose hours there. With Facebook, it's clicking on links. (Did I really need to click on the one about the top 'WTF moments from Full House'? No, I did not! It didn't benefit me in any way.)
Seek to engage. Time best spent on social media is time engaging with others. If you're a writer, then you'll want to engage with other writers and your readers.
I can't wait to read the other posts and see what the other indie block partiers wrote about social media.
Visit the other Indie Block Party stops: