Book Info & Author Details
The Harvesters (Harvesting Series #1) By Ashley Hill
Publication Date: November 28th 2012
Genre: Young Adult/ New Adult Horror
Summary
When she finds her boyfriend shackled to a white metal table Ashley feared for the worse.
On a small trip of dropping off a package for Jason's father, the young couple never thought they would be running for their lives. Running away from supposedly friends whom in turned to be a family of harvesters.
Human harvesters and they are looking for something specific. And Ashley just might be the perfect match for that something.
Trailer:
Giveaways
The grand prize is 5 copies of The Harvesters. Those five people will also receive copies of the future titles for this series, once they are ready to publish.
Author Bio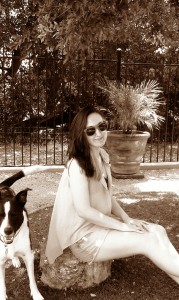 I'm a college student still trying to get a handle of the adult world. When I need to get away from it I lose myself in books, my own writing, and in spending time with my amazing boyfriend which he supports me to no end.
Finding my passion in books has led me to finding a passion in writing my own fictional stories back in 2009, I have turned this into a dream career and going one step further I would love to open up my own book store.
Social Media Links:
Ashley's Blog: http://www.paranormalsisters.blogspot.com
Twitter: http://www.twitter.com/PnormalSisters
Goodreads: http://www.goodreads.com/author/show/6604539.Ashley_Hill
Facebook: https://www.facebook.com/pages/Paranormal-Sisters/327714850596230
Interview
What's your story? How did you get into writing?
I actually got into writing as a way to pass the time. When I first started it I was home schooled for high school. During this time I fell in love with reading, a way to escape. During 2009 I fell for this series, Darkest Powers Trilogy by Kelley Armstrong, and after reading the first two books in a week I was dying for the third one. Of course it wasn't coming out till a year later. One day, in between book 2 and 3, I got an idea and started to write for fun. This then showed me that writing is my true calling in life, I finally found my passion.
What advice do you have for aspiring authors?
Try not to think too hard on your stories, I've found this advice from an author and it's working for me. Have your main "idea" but other than that, let everything just flow. Let it be natural, let your mind lead you.
What are you working on now?
I'm working on two things right now and none of them are for this series haha. I know, shame on me. One is a new adult paranormal erotic novella (yeah, didn't see that type of writing in my life) and the other is a new adult paranormal/sci-fi novel. And I'm also going to try and finish the prequel to The Harvesters.
What has been the most challenging part of publishing or marketing your book?
The hardest part is I think finding willing bloggers to review your book. Apparently it's hard to find some that'll read horror and short stories.
What has been your favorite part?
Getting any kind of feedback from reviewers and bloggers, and mostly getting to meet some wonderful people out there, bloggers and authors (self-published or traditional).
Who are your favorite authors?
Kelley Armstrong, Stacey Kade, Tera Lynn Childs, Amanda Hocking, Brigid Kemmerer, R.L Stine, Stephanie Perkins, Emma Meade, Sophia Jones, Alex Flinn
What gave you the idea for your current work?
For my new adult paranormal/sci-fi novel, I already had the idea stashed away and I can't really recall how I got the main plot line for it. But for the first books storyline was based off a fear I had. I would love to say more but I don't want to hoax it and lose the flow I have for it haha. But the NA paranormal erotic, it's based off a very real dream I had. It stuck with me all that day so I just had to write it down. I hope to publish it later this year.
If you could be any character in the book, which one would you be?
That'll have to be Ashley haha. She's tough and won't let anything stand in her way of surviving. She's the kind of strength I hope to find in myself and soon.
What other books have you written and/or are working on for the future?
I've written a YA paranormal novel. However now that my writing has changed and I have changed over the years, I'm going to rewrite it completely and into a New Adult paranormal. When that'll be I don't know haha. I'm also working on the rest of The Harvesters series and those other stories I talked about in question 7.
What's your favorite quote?
"Don't compromise yourself. You're all you've got." – Janis Joplin, I actually want to turn this into a tattoo.
What's your favorite supernatural creature?
Werewolves, they've been my favorite since I started reading for fun in 2008. The smexy guys and the powerful and fierce women, you just got to love it.
Goodreads: http://www.goodreads.com/book/show/16194122-the-harvesters
Purchase Links:
Amazon- http://www.amazon.com/gp/product/B00AEWHNI6?ie=UTF8&tag=httpwwwgoodco-20&linkCode=as2&camp=1789&creative=9325&creativeASIN=B00AEWHNI6&SubscriptionId=1MGPYB6YW3HWK55XCGG2
Barnes & Noble- http://www.barnesandnoble.com/w/the-havesters-ashley-hill/1115496390?ean=2940016650524
Smashwords-https://www.smashwords.com/books/view/327662