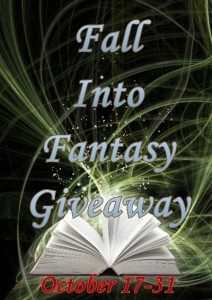 More than FIFTY AUTHORS of fantasy and paranormal books are giving away books and swag for the Fall into Fantasty giveaway! Enter below and see the many books you can win.
Books to Win:
Swag Packs:
Readers can win one of several swag baskets from our authors, including: Ash Krafton, Rhonda Parrish, Niteblade, Fantasy and Horror Magazine, Jane Lebak, Sharon Saracino, Cathrina Constantine, The Jeep Diva book review blog, Nana Prah, Thomas Winship, Angela Brown, M Pax, Debbie Christiana, Julie Flanders, Julia Crane, and more!
The authors:
Ash Krafton, Red Tash, Rhonda Parrish, Niteblade Magazine, Sascha Illyvich, Jami Gray, Stacy Claflin, Sharon Saracino, Marsha A. Moore, Kim Smith, Alison Beightol,  Prudence MacLeod, Shannon McRoberts, Rosalie Skinner, Tricia Schneider, Liv Rancourt, Debbie Christiana, Fabio Bueno, Carmen DeSousa, Lyndi Alexander, Sheryl Nantus, Sharon Buchbinder, Jane Lebak, Terri Rochenski, Marian Allen, Etta Jean, Angela Brown, Mimi Sebastian, John Hundley, Julia Crane, Lisa Kessler, Gregory S. Close, Nana Prah, James Garcia Jr, Angela Myron, Nicole Zoltack, Robin Lythgoe, Georgia Lyn Hunter, Andrea R. Cooper, Kristine Croto, Cathrina Constantine, M. Pax, Stacy Claflin, Tina Moss and Yelena Casale, Mina Khan, Julie Flanders, Julie Reece, Jocelyn Adams, Elle J Rossi, Kiru Taye, Cesya MaRae Cuono, Jonathan D Allen, Kevin O. McLaughlin, Thomas Winship, Shah Wharton
Giveaway:
These are my two books included in the giveaway. Click images for more details.