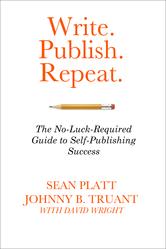 This book should be required reading for every author and aspiring author. It will become a classic, and people are going to quote it to each other when giving writerly advice often. It's that good.
From the guys who bring us the Self Publishing Podcast comes Write. Publish. Repeat.  If you're an author at any level, including not yet published, I highly recommend you get this book. It's an enormous volume packed full of value. If you get the print edition, you'll get the digital file for free. Awesome deal!
Review
If you've poked around here much, you've heard me sing the praises of the Self Publishing Podcast. The advice they give away for free every week to authors is invaluable. I know for a fact that I would not be where I am today without the podcast. They started the podcast at the same time I started writing the first draft of my first novel. They inspired and educated me, while entertaining me with their crazy antics. You just have to love these guys.
Sean and Johnny take the best information from the last year and half of their podcast and crammed it into one book. They don't hold back, sharing the best advice about how to become a successful author. They don't try to pretend that they have some magic formula that will make you rich tomorrow. In fact, they state in the beginning that if that's what you're looking for, you should return the book.
The book is written in a conversational style, so that as you read, you feel like you're sitting down having a conversation with the guys. They're funny and entertaining, just as in the podcast, all the while sharing the best information available.
You'll learn about:
The self-publishing landscape
How to prepare your books and make readers love you
Marketing your books effectively
How to think like a new wave publisher
Mostly evergreen information: long-term strategy over short-term tactic
Plus, you'll get to read interviews with some of the most successful indie authors including Hugh Howey and CJ Lyons.
Write. Publish. Repeat. is broken down into sections so that you can easily use it as reference to find the answers to questions you have. You can also read straight through. I read it from front to back, highlighting like a crazy person. Now I can use it as a reference by either searching my highlights or the table of contents.
I'm definitely going to return to this book over and over again.
Here are some of the gems you'll find within the pages:
You can outwork luck.

You are responsible for your own success.

Having an actual career (rather than a time-intensive hobby) requires actually pleasing readers.

Indie authors are in the book-selling business…and business is business, no matter where you conduct it.

Writing is an art, and publishing is a business.
If you're serious about your career as a writer, then I hope you will pick up a copy of Write. Publish. Repeat. and start reading it today. Grab it within the first couple of days, and you'll get it at a discounted price and get a bonus as well. What are you waiting for?