Get an 8 book NA book bundle for only 99c and a 12 book bundle for 99c! That's a LOT of reading for under $2!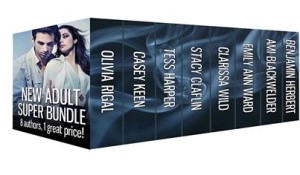 Love Me in Shadows
Laura's spent her college years running from her dark past. During the day the focuses on music, and at night she finds comfort in the arms of a man who refuses to show his face. But Laura can't hide forever…especially when the man who desires her is hiding secrets far darker than her own.
First Dance With You
New college student Emily agrees to dance with a sexy and mysterious masked man at a party. What she doesn't know is that this one dance will change her life forever.
I'll be Damned
Anna's life was ordinary. Then, her sister's kidnapped by a demon. An overprotective werewolf installs himself as her bodyguard. The Prince of Darkness tries to "claim" her. And she finds out she's a Grand Witch who must somehow draw out her dormant magic in time to stop a war between Heaven and Hell.
Promising Light
When Dar suddenly leaves Grace, breaking off their secret relationship, she searches for answers, reluctant to let him go. Then sheís kidnapped by Darís family, who are shape changers who claim she can break a curse set on their family. If the curse endures, Darís family could die out forever, but to help them, sheíll have to leave behind everything she knows.
Midnight
Few alive can even recall the days when midnight didnít mean one should cower and hide. Since the Century Vampires arrived, the only way to survive is to trust no one.
Chasing Mercy
After Mercy's family is killed in a tragic accident she somehow survived, she is stalked by a mysterious figure and begins seeing ghosts.
J A D E
Jade's excels at academics, not love. All that changes on a trip to Southeast Asia, where she meets a guy determined to know the real Jade.
Memoirs of a True Hero
Quincy Quiver, local hero and Crime fighter extraordinaire, is finishing up his holiday checklist when he first hears of Santa Claus. Surely a man responsible for worldwide break-ins on Christmas Eve is up to no good. Hero senses tingling, Quincy sets out to end the cookie thief's mischief and discover his true intentions once and for all.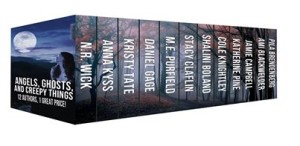 Immerse yourself in the supernatural worlds of twelve different authors in this paranormal bundle pack. In Angels, Ghosts, and Creepy Things, you can read twelve amazing tales about supernatural creatures and fantastical worlds ranging from short stories to full-length novels.
AFTER EDEN by Katherine Pine
Devi knows she shouldn't trust the new employee at her favorite used bookstore. Sure, he's funny, smart and hands down the sexiest guy she's ever met, but something dark lurks behind his unassuming smile and sinful green eyes.
Still, a girl can't always afford to be picky. When an angel abducts your twin brother it should come as no surprise that the one person who can help you get him back is a demon—and only if you're willing to pay his price.
HIDDEN by Shalini Boland
Sixteen-year-old Madison Greene is in foster care until one day she inherits a fortune, she inherits a house, she inherits a cellar full of danger.
Eighteen-year-old Alexandre lives in 19th century Paris. On an archaeological expedition he discovers a lost underground city where his life changes forever.
For each of them, life is finally starting. Little do they know it is closer to ending. Something lies buried which should have been forgotten. A Pandora's Box that was meant to stay shut. But Madison and Alexandre have never been any good at following the rules. They are about to find everything they've ever desired and everything that could destroy them.
ALL THINGS UNHOLY by Piia Bredenberg
It is the Fall of 1890, and there is a serial murderer on the loose in the sprawling Victorian city of Fabler. Crux, pawnbroker by day, occult vigilante by night, is either busy alienating customers or dispatching things that should not be here. Either way, he doesn't sleep much, but at least it leaves more time for quality drinking. When he is told that his immortal friend has been murdered, he nearly sobers up. Together with Viola van Wyk, the accidental medium, they leave no stone unturned on their quest to solve the case, all while dodging the new Detective Inspector who would like nothing better than to lock Crux up and throw away the key.
DOPPELGANGER by N.R. Wick
When Duncan and his twin sister Gwen buy an authentic spirit board from their local Pagan supply shop, they take it home expecting to have some fun scaring their friend Heather by conspiring with spirits. After the pointer starts to move on its own and tells them to head to the nearest mirror to help a lost soul, the three teens find themselves haunted by a terrible paranormal force. To make matters worse, Heather hasn't been the same since. Duncan and Gwen must discover what happened to their friend and how to banish the spirit before its too late.
BEYOND THE FORTUNETELLER'S TENT by Kristy Tate
When Petra Baron goes into the fortuneteller's tent at a Renaissance fair, she expects to leave with a date to prom. Instead, she walks out into Elizabethan England, where she meets gypsies, a demon dog and a kindred spirit in Emory Ravenswood. Can Petra and Emory have a future while trapped in the past? Or is anything possible Beyond the Fortuneteller's Tent?
ANGEL SPITS by M.E. Purfield
Using razor sharp prose, M.E. Purfield (author of the Miki Radicci series) weaves a tale of spiritual redemption set upon an urban sprawl of violence.
Street tough Jersey City girl Maggie Nieves witnesses her older brother fall to his death from the roof of Christ Hospital. Everyone says it is suicide. Not Maggie. She saw someone up there with her brother. A girl…with wings.
Maggie searches for the winged girl and unravels a mystery hidden deep in the city that not only affects her own destiny, but the fate of a dying little boy.