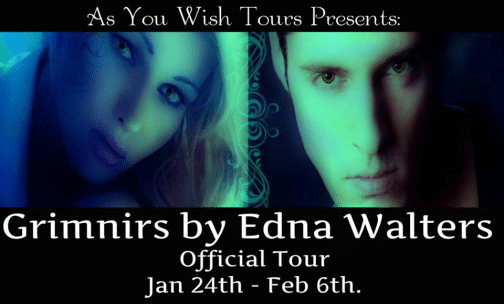 Book Title:  Grimnirs
Series: A Runes Novel
Author:  Ednah Walters
Release Date: December 2nd 2013
Genre:  YA Paranormal Romance
Publisher:  Firetrail Publishing
Presented by:  As You Wish Tours
Banner Made by:  Jamie Turner-Norton
Interview with Ednah Walters
What's your story?
Grimnirs is Cora Jemison's story, the best friend of the main character in the Runes series. I left things hanging at the end of book #2 (Immortals) and I didn't want Cora to be the main focus of book #3. Now that they are back to being best friends again, I can focus on Raine and Torin's
How did you get into writing?
I am a stay-at-home mother, so I started writing for balance. Now writing is my career.
What advice do you have for aspiring authors?
Write from your heart and read the genre you write. Don't tell people you want to write or be an author. Just do it. Sit and write. It doesn't matter if what you write makes it in the final draft.
Write. Write. Write. I was in college when I decided I wanted to write romance books. One of my lab partners told me there were too many romance writers out there, so why bother. I'm happy I didn't listen to him.
What are you working on now?
I alternate between writing my adult contemporary romance (the Fitzgeralds), my YA fantasy series about the Nephilim (Guardian Legacy-GL) and my YA paranormal series (Runes). I'm presently working on the next GL book. I should be done by end of the month. At the same time, I'm mulling the next Runes book. I'm not good with outlines.
What has been the most challenging part of publishing or marketing your book?
As an indie author, I find publishing easy. I had to learn how to go about it, from where to buy ISBN, file for copyright, format and design covers. Marketing is hard and exhausting. People who love one of my series don't necessarily love the others.
What has been your favorite part?
Holding a copy of my newly published book. That never gets old.
Who are your favorite authors?
Hands down, Rick Riordan. I would love to meet him. Then there's Cassandra Clare.
What gave you the idea for your current work?
Grimnirs or the Runes series? Runes because I love everything Norse Mythology and fell in love with Thor (in the movie Thor). Also, I love Cassandra Clare's TMI. After I read the first book, I started reading on runes and they led me to Norse mythology.
If you could be any character in the book, which one would you be?
Raine, so I can have Torin as a mate.
What other books have you written and/or are working on for the future?
The Fitzgerald Family series (contemporary romance), the Guardian Legacy (YA urban fantasy) and Runes series (YA Paranormal romance)
I plan to start two more series this year: Control (NA contemporary romance) and a YA paranormal romance to do with merman/mermaids.
What's your favorite quote?
"You know you're in love when you can't fall asleep because reality is finally better than your dreams." ― Dr. Seuss
What's your favorite supernatural creature?
A Valkyrie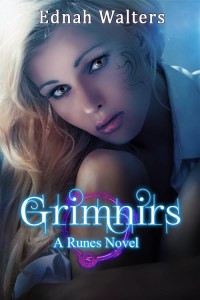 BLURB
One lost best friend.
One hot soul reaper.
Straight out of the psyche ward, Cora just wants her life to be normal. She doesn't want to see souls or the reapers collecting them. The love of her life, the guy she's loved from a distance for years, has moved away without saying goodbye. So yes, she's nursing a serious heartbreak. It's no wonder love is the last thing on her mind when Echo storms into her life.
The chemistry between them is mind-blowing. The connection defies logic. It doesn't help that Echo is the poster boy for everything she hates in a guy—hot, beautiful, and cocky. A general pain-in-the-butt. Being around him makes her feel more alive than she's ever felt before. But more important, the souls leave her alone when he is around.
Echo is perfect for her. Echo might even be her soul-mate. There is only one problem. Echo is
a freaking soul reaper. A Grimnir. The very beings she wants out of her life. Maybe normal is overrated because Cora wants it all. Answers. Love. A life. You see, once you fall for a Grimnir, your life will never be the same again.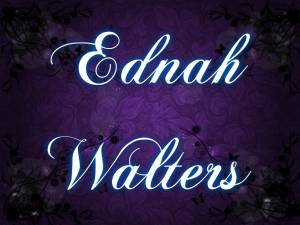 EDNAH WALTERS grew up reading Nancy Drew and the Hardy Boys and dreaming of one day writing her own stories. She is a stay-at-home mother of five humans and two American short-hair cats (one of which has ADHD) and a husband. When she is not writing, she's at the gym doing Zumba or doing things with her family, reading, traveling or online chatting with fans.
Ednah is the author of The Guardian Legacy series, a YA fantasy series about children of the fallen angels, who fight demons and protect mankind. AWAKENED, the prequel was released by Pill Hill Press in September 2010 with rave reviews. BETRAYED, book one in the series was released by her new publisher Spencer Hill Press in June 2012 and HUNTED, the third installment, was released April 2013. She's currently working on the next book in the series, FORGOTTEN. Visit her at www.ednahwalters.com.
Ednah also writes YA paranormal romance. RUNES is the first book in her new series. IMMORTALS is book 2. She is presently working on book 3, GRIMNIRS [Book 2.5] was released in December 2013. Read more about this series and the world she's created here.
Under the pseudonym E. B. Walters, Ednah writes contemporary romance. SLOW BURN, the first contemporary romance with suspense, was released in April 2011. It is the first book in the Fitzgerald family series. Since then she has published five more books in this series. She's presently working on book seven. You can visit her online at or www.ebwalters.com.
AUTHOR LINKS
BOOK LINKS