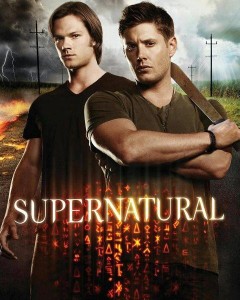 What does Supernatural have to do with self publishing? Nothing, really, but there are a lot of lessons Sam and Dean Winchester can teach us about it—and I've got four points to share with you!
In case you aren't a hardcore fan like myself, let me fill you in on the epic levels of awesome you'll find watching the show, then we can get down to business about what it can teach us about self publishing.
Supernatural is about two brothers who hunt monsters that everyone else thinks are imaginary. They live a life without the typical attachments: homes, long term relationships, or kids. Much of their time is spent traveling the country in an Impala, in search of creatures that need to be destroyed, staying in hotels along the way.
There's a lot of action, mystery, and fun. Sometimes I laugh so hard I cry. (I'll share some clips, don't worry.)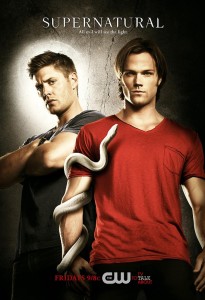 What can Sam and Dean Winchester teach us about self publishing?
Never Trust a Demon
You don't have to watch Supernatural to figure out that nothing good could come from trusting a demon. What does this have to do with self publishing?
You need to know who you can trust. There are those out there who will help you and there are those who are out to take advantage of you.
If someone, or a company, is offering to help you self publish for hundreds or thousands of dollars, they may very well be a version of a demon. (For more information, read about Publishers Behaving Badly and Why Is The Media Ignoring Author Exploitation By Publishers?)
Do your research and learn about what the self publishing industry is really all about. It's called self publishing for a reason. Yes, you need help from others; you can't do it all on your own. But you need to know who's trying to take advantage of you before you throw your money around.
For instance, if you aren't a graphic artist and you want people to give your book a chance, you need to hire someone to make a killer cover that will interest your target readers – or purchase a premade which will have the same effect. People do judge a book by it's cover. That's your first chance to grab them. If you don't, you've already lost them.
Other things you may need to pay for (or can exchange services for) include editing, proofreading, formatting for paperback, setting up a website if you don't know how, and advertising. Talk with experienced self published authors to find out going rates and ask about references. Don't know where to begin? I suggest Writers' Cafe over at Kboards.
Takeaway: Know what you're up against.

Always Carry Salt
Sam and Dean use salt because it's a deterrent against many supernatural creatures, including those demons that we just discussed. They can make circle of salt around themselves to keep a ghost or demon from reaching them or they can put salt in front of all of the doors and windows to keep them out of a building.
But salt won't work for every creature. You'll need a wooden stake for vampires, of course. What vampire is going to shy away from salt? You can use holy water with a demon. Salt won't even slow down a Leviathan, so you'll need a way to behead them after throwing borax at them. Not every tool works for every creature.
In the same way, not every tool is for every indie author. You need to do your research and figure out what's going to work to serve you best. I love Scriviner as a writing tool — as do many indie authors — but it doesn't work for some. There are those who still swear by Word. I love Dropbox, maybe you hate it. Some swear by tools like Evernote; I've never been compelled to try it.
Takeaway: Know the tools that will work for you.

Keep Bobby's Number on Speed Dial
Bobby is the Winchester's go-to guy when they have a problem. He has everything they need, so if they're stuck and don't have the answers, they call Bobby. Watch the video below to see Bobby in action – be warned that the second half of the video is gory, if that bothers you, skip that part.
Who's on your speed dial? When you need help with the self publishing process, where do you turn? Do you know where to go to find the answers to your questions? Do you know that they have your back and will give you good information? I already mentioned Writers's Cafe as a great place to learn from other authors.
It's also good to have a small group of writers that you're part of. There's something special about a group that knows you well and you know them as well. It might take some time to find it, but when you do, don't let them go! My otters know who they are! (You know you're a tight group when you have inside jokes.)
There are plenty of great resources online, just as there are plenty of horrible ones too. I love listening to The Self Publishing Podcast, The Story Telling Podcast, The Self Publishing Round Table, and Rocking Self Publishing. Each of the podcasts have their own unique something special to offer, but I learn a lot from them all every week. If you like interviews, the last two have interviews with successful indies each week.
Author CJ Lyons has a resource page for indie authors. There's an annual online indie conference called Indie Recon where you can find a boatload of resources. There are a ton more — if you have a favorite, please share it in the comments!
Takeaway: Know where to get your information

Have Fun!
The Winchesters know how to have fun. There are plenty of episodes that are full of suspense, thrills, and chills, but there are also a ton that are just plain funny. I can't tell you how many laughs I've had watching Supernatural!
The same should be true if you're self publishing. Yes, it's a lot of work. But, you should love it! Writing stories that you want to, on your own schedule, and getting the highest royalties possible! You have total control over your work, you get to pick the covers, choose the prices, and make all of the decisions. What's not to love?
Takeaway: If you aren't having fun, what's the point?
If you haven't watched any of the other videos in this post, you've got to watch these! They're hilarious!

(This is an updated post from one of my popular blog posts last year. It did so well then, I thought I'd update and reuse it!)
Images source: The CW Network