Enter to win one of THREE copies of Hidden Intentions, a  standalone novel. It's filled with romance and suspense.
Hidden Intentions a standalone, so it can be read apart from the rest of the Transformed series.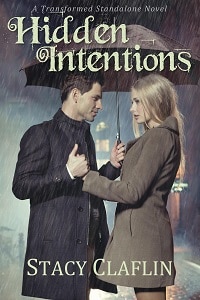 About
Fun-loving Clara is keeping a dark and deadly secret from William, the love of her life. Not because she wants to hide things from him, but because her story is so unbelievable. If she tells him, she could lose him. If she doesn't tell him, she will.
On an overseas airplane ride, Clara finds a ring-sized jewelry box in William's coat. Figuring that he wants to take their relationship to the next level, Clara must decide whether or not she will open up to him. Maybe she could find a way to live happily with him without exposing her secret.
Before she has a chance to decide, Clara comes face to face with an old rival who holds the key to revealing Clara's past. Will Clara be able to win over William despite the truth, or will she lose him forever?
Giveaway
a Rafflecopter giveaway
Visit the other giveaways