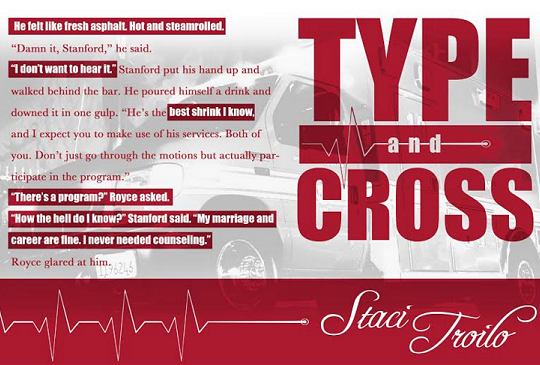 About
Blood defines family. Blood reveals betrayal.
Dr. Royce Keller is no stranger to blood. As Chief of Emergency Medicine at Oakland Regional Hospital, it's his job, his calling. To Royce, it is the very essence of life—what ties his family, his career, and his world together. Until he learns everything he believes is wrong.
Vanessa Keller has a secret she has kept hidden for almost two decades. It's her burden, her cross to bear. To Vanessa, the truth is a choice—something best forgotten for the greater good of her family and their future. Until the day it comes back to haunt her.
A tale of family dysfunction, betrayal, heroism, and loss, Type and Cross is the story of one family's journey from devastation to redemption.
My Review – 5 Stars
Type and Cross grabbed me from the very beginning and didn't let go until the end. It starts in the middle of action: in the ER after a terrible accident. Things go from bad to worse for Dr. Keller, who doesn't start off very likable. I don't want to give anything away, but the shocking twist revealed at the beginning is just the start.
I couldn't put it down for a variety of reasons. One, I just had to know what was going to happen next. I couldn't guess, and with so many surprises thrown in, it's impossible to figure out what's going to happen. Another is that the writing is so good. I just got lost in the story and everything that was going on. Another thing is that I kept waiting for the characters to respond….normally.
In a lot of ways, Type and Cross reminded me of Gone Girl – in the best way possible. I loved that book, too! So many of the characters were just plain crazy. Only the kids really responded to the tragedy like I would expect anyone to. The in-laws, they were beyond nuts. All of them. I was so glad when they finally high-tailed it out of there. The characters also kept me on my toes. Just when I thought all hope was lost for them redeeming themselves, they would turn around. But then something would happen to send them back to crazy-ville. (For the record, I loved it. It made the book even more difficult to put down.)
Again, I don't want to give anything away, but I really liked the ending. It was very much NOT like Gone Girl, unlike so much of the rest of the book. Type and Cross left me feeling like everything had been wrapped up, and I was pleased with the way the characters developed and the surprising turns and twists at the end.
If you're looking for a good read that's hard to put down and has a good ending, you should give this a try.
About Staci
Read an interview with Staci Troilo here.
Staci Troilo has been writing since she was a child. She earned her bachelor and master degrees in writing from Carnegie Mellon University, and after graduating, worked in corporate communications until she had her children. Later she worked as a writing professor and now is an editor as well as a novelist and short story writer. She creates dark, dangerous heroes and strong, capable heroines, weaving their lives together into a contemporary tapestry of tantalizing romance. Compelling villains and gripping mysteries engage the reader from page one of her novels and her short stories feature ordinary characters conquering the odds in extraordinary situations. Staci is from Western Pennsylvania but currently lives in Arkansas with her husband, son, daughter, and two dogs.
You can reach her at:
Blog: http://stacitroilo.com
Facebook: http://facebook.com/authorstacitroilo
Twitter: https://twitter.com/stacitroilo
Goodreads: https://www.goodreads.com/staci_troilo
Pinterest: http://www.pinterest.com/stacitroilo/
Amazon: http://amazon.com/author/stacitroilo