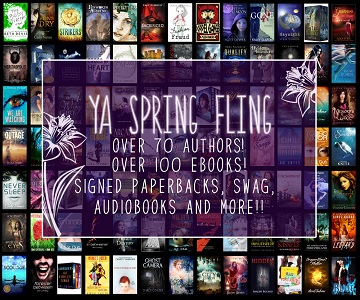 The YA Spring Fling giveaway runs until April 3rd and gives readers the opportunity to win ebooks, paperbacks, audiobooks and swag from some of the most awesome YA writers around!
Over 70 authors are participating, with over 100 books up for grabs. From contemporary romance to ghostly gothic, all kinds of YA books are covered. Find new authors to follow or grab a free book from your favourites. One thing is for certain, this spring is going to be epic for YA books!
I'm giving away copies of Hidden Intentions and Gone – ebooks and audio!
Head over the giveaway to enter.
Interview
Interview with Tracy Marchini, one of the awesome authors participating in the giveaway
What's the best thing about being a writer?
The best thing about being a writer is that I can explore "what if's." For The Engine Driver, the what if was, "What if everyone's emotions were controlled by the music playlist in their head?" For Effie's Senior Year the question was, "What if there was a girl who communicated mainly in funny lists?"
What's the worst thing about being a writer?
The worst thing about being a writer is trying to find the right flow. It's so easy to get lost in all the things that surround being a writer – conferences, marketing, pictures of ducks – that it's sometimes hard to remember that the most important thing is to get that time to write!
What are your top tips for surviving a zombie apocalypse?
Surviving a zombie apocalypse is all about forethought and preparation.
Make slow friends.
Before you accept anybody's friendship, challenge them to a road race. If you can outrun them, you'll at least survive a bit longer than them in the zombie apocalypse. Congrats you have a new friend!
If you can't outrun them, then their friendship eventually means that you will be zombie food. Ask yourself, "Am I willing to be gorged on by a zombie for this person?" If not, then perhaps you need a new friend.
Build skills, not a stock pile.
Most guides will probably tell you that you should have a warehouse full of supplies. But then you will be less likely to leave them if your current situation becomes untenable. Instead, casually teach yourself the skills needed to survive a zombie apocalypse. Don't let too many people know though, or the zombies will figure it out and instead of eating you, you will be repairing the zippers on zombie pants.
Small ways to gain zombie survival skills without attracting attention:
"Oh, this herb garden? I'm not trying to learn how to grow enough food to survive a zombie apocalypse. I just really like fresh basil."
"Oh, this blanket made by the fronts of all my favorite but too-small band t-shirts? I'm not trying to learn how to quilt to survive the zombie apocalypse. I just really don't like throwing out shirts."
"Oh, this popsicle stick model of a collapsible, portable dwelling? I'm not trying to figure out how to shelter myself during the zombie apocalypse. I just have a school project about camping."
Early to recognize, faster to run
Maybe medical skills would be a good thing to learn, but ideally, you will never be bit and therefore won't need them. Plus, it's hard to learn how to treat yourself with zombie wounds without inflicting yourself with zombie wounds.
So, the best way to treat wounds is to not get them. Slowly train yourself to recognize zombies before your peers, so you may begin the running faster.
Is this math test putting people to sleep? Or is Jack drooling on his desk because he's thinking of eating your brains at lunch? Only a trained zombie-spotter would know.
Bio:
Tracy Marchini is an Amazon bestseller that's been accepted for publication in Highlights Magazine and has won grants from the Highlights Foundation, the Puffin Foundation and La Muse Writer's Retreat in Southern France. Her list for surviving a duck apocalypse is much shorter than surviving a zombie one. It is, "1. Embrace our new ducky overlords." You can visit her at www.tracymarchini.com.
Links:
www.tracymarchini.com
www.twitter.com/tracymarchini
Effie's Senior Year: www.tracymarchini.com/effie
The Engine Driver: http://tracymarchini.com/now-hear-this/