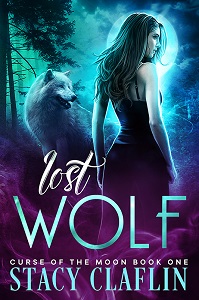 She's hiding a dark secret. It already killed her once.
Victoria can't wait to start college, but there's a hitch—she can't remember anything before arriving on campus. Her memories spark when she sees her ruggedly handsome math professor, but she senses something horrific. The shock on his face affirms her fears.
Toby is an alpha wolf who never thought he'd see his true love again—not after she died in his arms. Nothing could have prepared him for her walking into his class. But to his dismay, not only has she forgotten what happened, she doesn't even know who she is.
USA Today bestselling author, Stacy Claflin, brings you Lost Wolf, the first book in the Curse of the Moon series. It's a paranormal romantic suspense saga that features gripping supernatural drama, surprising twists, dynamic characters, and heart-pounding romance.
Read Lost Wolf today to satisfy your craving for a fast-paced paranormal tale.
On sale for just 99c for a limited time! Read it before the price goes up.
Amazon | Apple | Kobo | Google | Nook