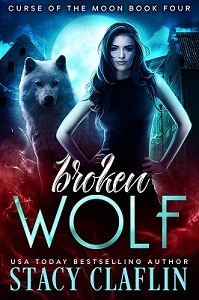 Broken Wolf is the fourth book in the Curse of the Moon series. I'm just as thrilled with this cover as I am the rest of the series. Rebecca Frank is such a talented designer!
Lost Wolf (book 1) is currently available for just 99c and Chosen Wolf (book 2) is due to come out this week! Book three is due later this year. Four and five (no cover yet) are due out early next year.

About Lost Wolf:
She's hiding a dark secret. It already killed her once.
Victoria can't wait to start college, but there's a hitch—she can't remember anything before arriving on campus. Her memories spark when she sees her ruggedly handsome math professor, but she senses something horrific. The shock on his face affirms her fears.
Toby is an alpha wolf who never thought he'd see his true love again—not after she died in his arms. Nothing could have prepared him for her walking into his class. But to his dismay, not only has she forgotten what happened, she doesn't even know who she is.
He's determined to do whatever it takes to restore what they've lost. Can Toby help Victoria recover her memories, or will he lose her forever?
Read it for just 99c! (Coming soon to paperback.)