Love YA paranormal, urban fantasy, science fiction and dystopian books?
We've gathered a handful of thrilling stories from all of your favorite genres and put them together into an epic anthology of young adult fiction. Some of them are just the beginning of a unique adventure, while others are complete stories that will spark your imagination.
Over 500 pages of reading!!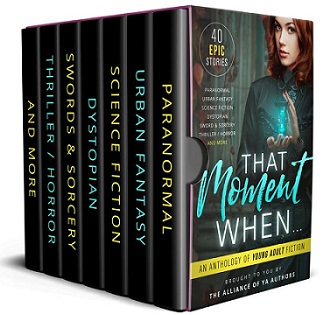 OUR THEME
Have you ever reached a moment in your life when everything changed? A crossroads of sorts… a point of no return. An event or realization so enormous you knew it would impact you forever in ways you couldn't begin to understand? Discoveries so momentous they changed everything you thought you knew about the world, and yourself?
That Moment When is filled with exactly these kinds of moments.
If you read the stories in this anthology, I guarantee you'll find at least a few that thrill and excite you. Make sure to follow the authors if you want to read more – most of us have at least one free book on our sites.
Excerpt
My contribution to the anthology is Desperate, a spin-off from my USA Today bestselling Gone Trilogy:
Chester Woodran stared at the pictures. His heart raced. This was the girl. She looked exactly like Heather.

Sure, her hair was longer and darker. But those things could be fixed. Their faces were almost identical. As though separated by birth. He'd spent countless hours online searching for the right girl. He'd started the search weeks earlier.

Now it had all paid off. He would get his chance to start over. Undo the mistakes he'd made with his first family. They were gone. He would never get to see them again.

This girl. She was the key to his second chance. What was her name? He adjusted his oversized glasses. Macy Mercer. All he would need to do would be to win her over, and she would become Heather. His lost daughter.

He picked up the framed picture of his family and held it up in front of the computer screen. "I'll make everything right. I promise."
To read more, grab the anthology:

The Alliance of YA Authors is a community of over 1000 young adult writers. Many of us are award-winning, bestselling authors; others are brilliant debut authors just starting out. We team up to make it easier for you to find your new favorite reads, with book giveaways, contests and joint book promotions.
All your favorite YA genres!
PARANORMAL & URBAN FANTASY
SCIENCE FICTION
DYSTOPIAN & POST-APOCALYPTIC
FANTASY
THRILLER & HORROR
AND MORE (UNIQUELY SPECULATIVE FICTION) 
Get it on Kindle / Get it on iBooks / Get it on Kobo