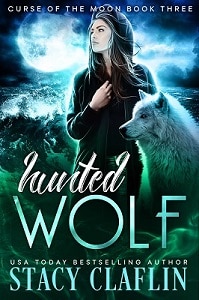 Her fiancé's family wants her dead. And they won't stop until she is.
Victoria and Toby have faced one trial after another since falling in love. Now they must face Toby's old pack—a cruel traditional group opposed to anyone refusing to follow the old ways. Toby will do anything to protect Victoria, even to the point of separating from her. He sends her to a fierce bear shifter colony, where she will be hidden and protected.
Life with the werebears begins to take its toll, and Victoria's worries get the best of her. She fears for Toby and her pack, but her thoughts are torn—she also fears her sister is in danger. Victoria is compelled to find and protect her, so she leaves the sanctuary of the werebear colony and sets off in search of her.
Victoria encounters so much more than she could have imagined once she embarks on her quest. Will she be able to find her sister before Toby's old pack finds and kills her?
Hunted Wolf is the third book in the Curse of the Moon series by USA Today bestselling author, Stacy Claflin. It's an urban fantasy suspense saga that features gripping supernatural drama, surprising twists, dynamic characters, and heart-pounding romance.
Read Hunted Wolf today to satisfy your craving for an unputdownable shifter tale.
**It's highly recommended that you read Lost Wolf (book 1) first, due to a continuing storyline.**
Haven't read the first two books?
No problem! Grab Lost Wolf for only $0.99!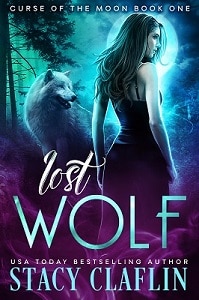 She's hiding a dark secret. It already killed her once.
Victoria can't wait to start college, but there's a hitch—she can't remember anything before arriving on campus. Her memories spark when she sees her ruggedly handsome math professor, but she senses something horrific. The shock on his face affirms her fears.
Toby is an alpha wolf who never thought he'd see his true love again—not after she died in his arms. Nothing could have prepared him for her walking into his class. But to his dismay, not only has she forgotten what happened, she doesn't even know who she is.
He's determined to do whatever it takes to restore what they've lost. Can Toby help Victoria recover her memories, or will he lose her forever?