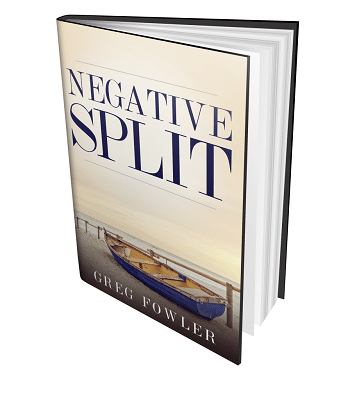 About Negative Split
Nathan Stiles has a problem. OK, maybe he has more than one problem. Once America's most popular romance novelist, Nathan has not published in over five years. As the finish line looms for perhaps his last chance at publishing another book, Nathan finds himself in terrible shape, both mentally and physically. He also finds himself without a place to live when his wife tells him she wants a divorce. A visit to his old high school cross country coach may solve his homeless problem, but are Coach Willie's lessons enough for Nathan to figure out how to rewrite the ending to this story?
The Interview
Welcome, Greg! I'm glad to have you here.
What's ​​your story? How did you get into writing?
Once upon a time (circa 2001), I started a blog – I think this was before they were called blogs – about restoring an old Jeep. Eventually that project stalled and so did the blog. A few years later, I began to write again. After a couple different blog attempts, I finally gave fiction a shot during NaNoWriMo 2015. The result is my first fiction novel, Negative Split.
What advice do you have for aspiring authors?
First, if you're not already, become a learner. Read and study all you can about writing and story creation. If you can't afford to buy books, go to the library.
Second, find an encourager. I was fortunate to have a friend who subscribed to my blogs, supported my dumb ideas, and asked what I was writing when he hadn't seen anything in a while. If not for him, I may have hung up the keyboard long ago.
Finally, and this is not really kidding, take up long distance running. To me, writing novels is a lot like running marathons – they both take a lot of commitment and perseverance. I didn't have the mindset to be a novelist before becoming a marathon runner. Plus, I come up with a lot of great ideas and while running. As soon as I get the dictation down while running, life will be great..
What are you working on now?
Currently, I'm working on the outline and beats for my second fiction novel. I have an aggressive schedule and want to be more efficient this time around.
What has been the most challenging part of publishing or marketing your book?
Besides editing, I think convincing people who don't know me personally to take a risk on my book has been the toughest part. Even at $3.99 for Kindle, people are tight with their dollars.
What has been your favorite part?
Receiving positive feedback from people I didn't expect to read the book.
Who are your favorite authors?
If you looked at my Kindle and Audible accounts, I guess it is James Scott Bell for non-fiction, but I'm becoming a big fan of Monica Leonelle, too. For fiction, I'd say David Baldacci right now. I really like his Amos Decker character and the series evolving around him (Memory Man and The Last Mile).
What gave you the idea for your current work?
A few years ago, a popular writer announced he and his long-time wife were divorcing. I was bummed, not because I liked his work (although I had read some for research purposes) but because he was a hero, having 'quit the day' job years ago for full-time writing. So, my redemption story of Nathan Stiles, once America's most popular romance novelist, was born.
If you could be any character in the book, which one would you be?
Probably Nathan – he still has a lot of life ahead and the opportunity to make the second half of his career better than the first.
What other books have you written and/or are working on for the future?
I am currently working on fiction novel number two. The working title is Out of Tune and is the story of Melanie, a late twenties woman drifting through life when an unexpected discovery changes her perspective and puts her in conflict with the powerful local town sheriff who is running for governor.
What's your favorite quote?
"Put one foot in front of the other and soon you'll be walking 'cross the floor." Kris Kringle says this to The Winter Warlock in the Rankin-Bass classic Santa Claus is Coming to Town. This quote applies to both writing and running for me. Just take consistent, small steps and eventually you'll be amazed how far you've gone.
What's your favorite supernatural creature?
I've always been intrigued by vampires.