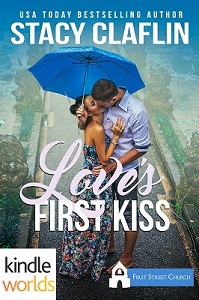 I'm excited to announce that I will be writing a novella for the upcoming Kindle World, First Street Church. It is a series of sweet and inspired romances.
My book will be part of the beginning launch, featuring twenty novellas set in this world.
About First Street Church Kindle World
Welcome to the tiny town of Sweet Grove, TX, where neighbors still care deeply about each other and the little white chapel on First Street is the heart and soul of all who live here.
It's a simple life–a good life–yet many here are suffering invisible pains. From alcoholism to divorce, hoarding, and even suicide, the struggles are real but so is the God who loves this town and all its residents. Through the darkest of times and the deepest of tragedies, each day provides a new chance to find faith, hope… and even love.
Whose life will you change for the better? Will you bring new purpose to a troubled youth, redemption to a scorned elder, or perhaps salvation to the newest resident in town? Their fates and futures now rest in your capable hands.
Welcome to Sweet Grove, TX. We're so glad you came for a visit! Learn more here.