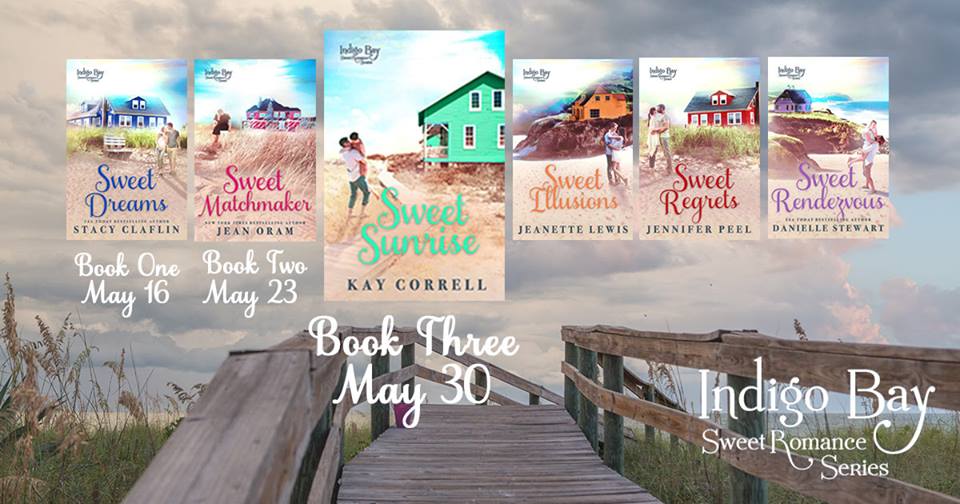 Sweet Sunrise by Kay Correll
Sometimes life has a way of teaching lessons whether you're ready to learn them or not…
The last place on earth Will Layton wants to be is Indigo Bay, but his younger sister needs him and he's never been able to say no to her. But she left out a few details… like their father staying with her and the girl who dumped him years ago is living right next door.
The last person Dr. Ashley Harden thought she'd see in Indigo Bay is Will Layton, but he's back in town and just as irresistible as when they were young. Seeing Will again is a complication that isn't on her carefully mapped out life plan.
In spite of Ashley's best intentions, she starts falling for Will again, but nothing has changed. She's still focused on getting the townspeople to accept her and see her as more than the girl from the wrong side of town, while Will is determined to guard his heart at any cost.
Not the easiest road to true love… especially when secrets from the past are revealed and history threatens to repeat itself.
Amazon | Apple | Kobo | Nook | Google
Excerpt
   Eva sat just beyond the dunes on a blanket, next to the picnic basket she'd borrowed from Marjorie. She'd moved far enough along the beach that she could keep the trail leading between the dunes in her peripheral vision and watch for Ben. Her excitement had been building all day, tempered by dread he would ask about Sam. Ben would know she'd bailed Sam out, wouldn't he? She didn't know how much information was shared between the jail and the police department, but word traveled fast in Indigo Bay. Miss Lucille probably knew by now.
   Her heart jumped as Ben appeared between the dunes. It was late in the day and the beach crowd had thinned, but he still stopped for a minute to search for her among the joggers, strolling couples, and tired families packing up their things. She was about to wave to him when he spotted her and began walking in her direction. He wore his cargo shorts and a navy jacket, open over a blue-and-green-striped T-shirt.
   He walked slowly, hands in the pockets of his jacket, and her smile slid away as he got closer. He knew.
   "Hi." He dropped onto the blanket, and she felt a physical ache at the space he put between them. Normally he would have sat close, gathered her into his arms, and pressed a kiss to her lips. But tonight he kept his distance, sitting at the edge of the blanket, toying with the fabric. "Our family beach blanket," he said with a small smile.
   "Yeah, your mom was really nice to let me borrow it, along with the basket." She flapped one hand weakly toward the wicker basket at her side. The picnic wasn't anything special—chicken salad sandwiches on croissants she'd picked up from the grocery store, along with red grapes, a bag of chips, and some chocolate chip cookies Marjorie had sent along with the basket.
   And the red wine, with a pair of cheap goblets. She'd been trying to plan a romantic picnic, but now, with the way Ben was acting, her cheeks burned in embarrassment at her presumption.
   "I used to fall asleep on this blanket," Ben mused. His fingers pinched the red and blue folds, but his eyes were focused on the thundering waves. "We'd stay out here until we were absolutely fried with exhaustion. Then my dad would carry me to bed. That's the best feeling isn't it? Having your Dad ca— …" He trailed off as he turned his head; he must have remembered who he was talking to.
   "I wouldn't know," Eva said.
   Ben flushed. "Sorry. I got reminiscing and …" He met her eyes for a long moment, then ducked his head, lacing his fingers together at the back of his neck. "Why didn't you tell me it was a cult?" he whispered.
   Eva felt the sting of tension between her shoulder blades. Why indeed? Because calling it the Family, or the Church, or the Compound was so much more benign than calling it a cult. Admitting it was a cult meant admitting she'd been taken in, she'd been fooled, and even though she'd been so young and it wasn't her fault, how did you explain that you let it go on for eighteen years, even after you'd grown up enough that you knew? How did you explain that kind of learned helplessness and fear?
   She pressed her suddenly shaking hands between her knees. "I didn't think of it as a … a cult," she said. "To us, it was just the Family."
   "The Nineteenth Day Church," Ben clarified, his voice scraping on the words. He yanked open the pocket of his shorts and pulled out a folded piece of paper, tossed it to her across the bright plaid blanket. "And they killed a man."