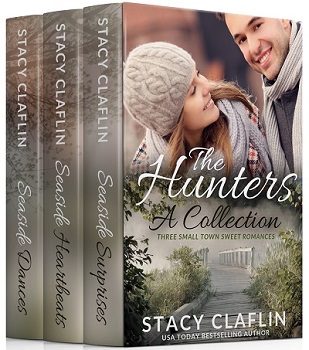 Meet the Hunter brothers of Kittle Falls…
These full-length novels are set in the California beach town of Kittle Falls, following the Hunter brothers as they make their way back to their hometown and find the loves they couldn't elsewhere – and in most cases, weren't looking for!
Each book is a standalone.
The Hunters Collection contains three full-length novels:
Seaside Surprises
Seaside Heartbeats
Seaside Dances
Purchase here: Amazon | Apple | Kobo | Nook | Google
About Seaside Surprises
Work hard. Play often. Love unconditionally.
Tiffany Saunders is on the run. When she winds up stranded in a seaside town, she wants nothing more than to forget her horrific past and kept moving. But a chance meeting with a handsome local changes everything.
Jake Hunter has some deep emotional scars and is trying to cope with running the family business. The last thing he wants is a relationship—until a mysterious brunette walks into his store and complicates it all.
Tiffany prefers to keep the painful memories of the past where they belong—in her rear view mirror. But dark secrets cannot stay hidden forever. Just as the walls around Tiffany's heart start to come down, the past catches up with her. Will true love be able to conquer all?
About Seaside Heartbeats
Sometimes love shows up when you least expect it.
After years of hard work, architect Lana Summers just wants a relaxing vacation in the beach town of Kittle Falls. Instead, she suffers unexpected heart problems, and finds herself in the office of a gorgeous cardiologist—who only makes her heart work harder.
Brayden Hunter left his successful cardiology practice in Dallas to be closer to his aging parents. Focused on building a health care clinic in his hometown, he doesn't want any distractions. However, the beautiful Lana is one he can't seem to avoid.
As their attraction grows, they stumble upon a 160-year-old mystery. Brayden catches her adventurous spirit as they chase after answers, and he can't help falling for her. But can he convince her to stay in the small beach town and with him?
About Seaside Dances
Dream big. Dance often. Love completely.
Zachary Hunter is no stranger to rejection. After multiple failed efforts to get his novel published in New York, he's counting on a trip home to turn his luck around.
Jasmine Blackwell has big dreams. She hopes her internship as a dance instructor in Kittle Falls will be the stepping stone she needs to achieve her lifelong goals.
After a chance meeting, neither Zachary nor Jasmine can deny their attraction. They fear their aspirations are too big to let a relationship tie them down. Can they have both love and the careers of their dreams?
Amazon | Apple | Kobo | Nook | Google