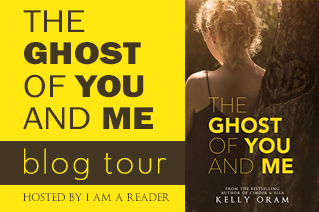 The Ghost of You and Me by Kelly Oram
How do you tell someone who hates you and blames you for the death of his best friend that you miss him?
From the bestselling teen and young adult author of Cinder & Ella comes a new heart-wrenching romance sure to bring all the feels.
The tragic death of Spencer Schott unravels the lives of the two people he loved most—his girlfriend, Bailey, and his best friend, Wes. Secrets and guilt from that fateful night keep both Bailey and Wes from overcoming Spencer's loss and moving on with their lives.
Now, nearly a year later, both Bailey and Wes are still so broken over what happened that Spencer can't find peace in the afterlife. In order to put his soul to rest, he's given one chance to come back and set things right…even if that means setting up his girlfriend with his best friend.
With the emotional resonance of Jellicoe Road and the magical realism of The Lovely Bones, The Ghost of You and Me is a story about overcoming grief, finding redemption for past mistakes, and the healing power of friendship and love. Fans of John Green, Sarah Dessen, and Nicholas Sparks are sure to love this haunting new tale from Kelly Oram.
This is a clean young adult romance stand alone novel that reads like contemporary drama romance and has just a touch of magical realism.
My review
This was a touching love story that ripped at my emotions – exactly what I expected reading a new Kelly Oram book. She quickly became one of my favorite authors after I read Cinder and Ella, and now I expect strong love and a good cry reading her books.
If you're looking for a clean romance, some mystery, young love, and lots of feels – this is for you.  You'll get all of that from The Ghost of You and Me.
This felt more like a contemporary romance than a paranormal, even though there's a ghost in this one. At first, it seemed like Spencer was a figment of Bailey's imagination but as things unraveled, it became clear he was much more than that, and it just felt natural and real.
I don't want to give any spoilers, but if you love a good romance – pick this one up and start reading right away. Just be sure to wear your waterproof mascara!
Excerpt
Our hug goes on long enough that it turns into something more. I'm not sure how to break it up or if I even should. Wes's embrace started out soft, but now he's hanging on as if he plans to never let me go. His muscled arms have me trapped against him in a grip I couldn't escape if I tried, and his cheek is resting on the top of my head. He's not hugging me; he's holding me.
As I stand there frozen in shock, one of Wes's hands slides up my back and he tangles his fingers in my hair. His cheek slides across my head until I feel his face buried in my hair, and he takes a deep breath, inhaling my scent. His grip on me tightens even more, as if he can't hold me close enough.
There's something about the moment that feels desperate. It's as if Wes can't help himself. It feels as though he's seized on the tiny bit of comfort I've offered him and is trying to soak it all in before it vanishes and he's left without again. Has he had no one helping him through this for the entire last year? I can't even imagine what a nightmare it's been for him to have to deal with Spencer's death and his mom's cancer all by himself.
Author Kelly Oram
Kelly Oram wrote her first novel at age fifteen–a fan fiction about her favorite music group, The Backstreet Boys, for which her family and friends still tease her. She's obsessed with reading, talks way too much, and likes to eat frosting by the spoonful. She lives outside of Phoenix, Arizona with her husband, four children, and her cat, Mr. Darcy.
$25 Amazon Gift Card or Paypal Cash Giveaway
Ends 7/26/17
Open only to those who can legally enter, receive and use an Amazon.com Gift Code or Paypal Cash. Winning Entry will be verified prior to prize being awarded. No purchase necessary. You must be 18 or older to enter or have your parent enter for you. The winner will be chosen by rafflecopter and announced here as well as emailed and will have 48 hours to respond or a new winner will be chosen. This giveaway is in no way associated with Facebook, Twitter, Rafflecopter or any other entity unless otherwise specified. The number of eligible entries received determines the odds of winning. Giveaway was organized by Kathy from I Am A Reader and sponsored by the author. VOID WHERE PROHIBITED BY LAW.